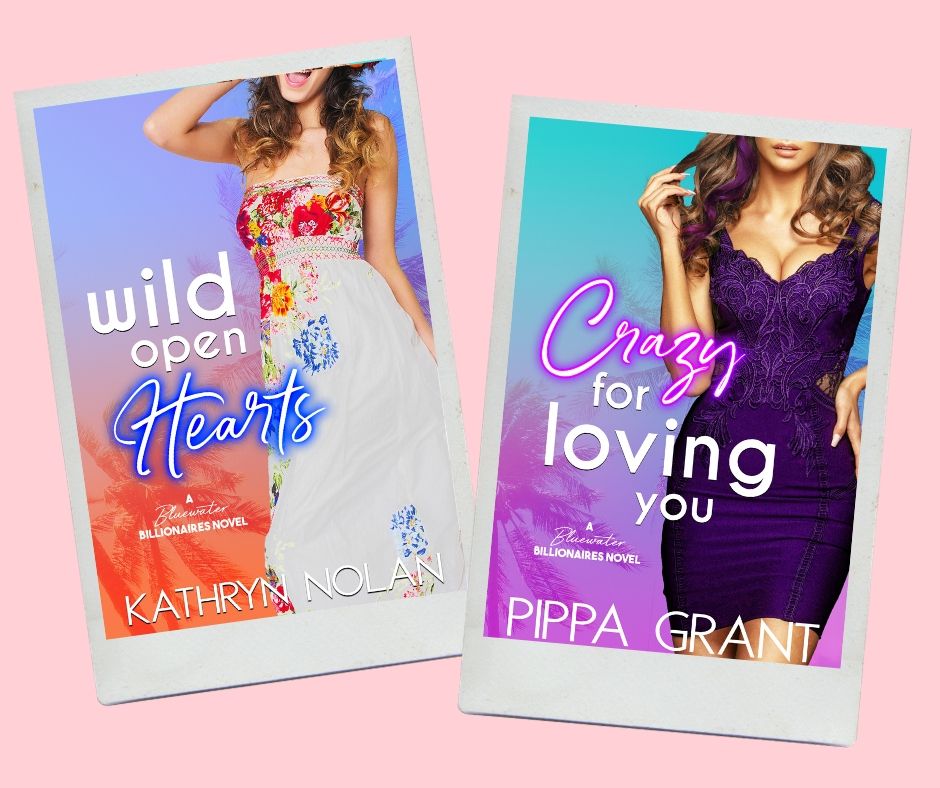 The Novels:
Wild Open Hearts by Kathryn Nolan
Crazy for Loving You by Pippa Grant
The Authors:
Kathryn Nolan
Pippa Grant
The Noobie:
Becky Feldman (@beckles212)
Too Stupid to Live Podcast (@TSTLpodcast)
The Synopsis: Wild Open Hearts
Luna da Rosa is America's Vegan Best Friend. The self-made billionaire is a flower-crowned hippie whose Instagram feed is as popular as Wild Heart, her vegan makeup company. When she's not changing the cosmetics industry, she's dazzling her online fans with kombucha recipes—until Wild Heart is caught in a scandal, destroying her reputation as a cheerful do-gooder.
Beck Mason is the prodigal son of Miami's most notorious biker gang. But Beck left his criminal family to start Lucky Dog, rescuing dogs who need the most help… except the surly ex-outlaw never realized leading a struggling nonprofit with a ragtag crew would be so damn hard. They're in dire need of cash—and fast.
Luna believes working at Lucky Dog will fix her image problem and get Beck the money he needs. It's a win-win, right? Except Beck doesn't like the sunny, free-spirited—okay beautiful—billionaire. He sure as hell doesn't trust Luna not to use him just to make herself look good.
Sure, Beck's grumpy, stubborn pride and meat-eating ways irritates Luna. Even though his big-heart-and-big-beard-combo is dangerously sexy. And they really shouldn't have shared The Kiss to End All Kisses on the back of his motorcycle one night…
But as the bohemian billionaire and the burly biker give into their electrifying attraction, will their differences keep them apart? Or will they finally learn to trust their wild hearts?
Author's Note: Big, grumpy, bearded hero. Happy-go-lucky hippie heroine. Snarky banter. Opposites that don't so much attract as combust. Motorcycle sex. Steamy Miami nights. Four lady billionaire best friends. All the rescue dogs. Major heart-feels.
The Synopsis: Crazy for Loving You

Is there anything hotter than a growly, overprotective Marine cradling a baby? My melted ovaries don't think so.
When you work hard and have the bank account to prove it, you're entitled to play hard. I've seen some crazy things. I've caused some crazy scenes. And there's no shame in my game.
But I'm still knocked off my stilettos when an insane chain of events leads to me inheriting a baby. The craziest part? The baby comes with a by-the-books, no-nonsense retired Marine who's so regimented that I wouldn't be surprised if he irons his boxer shorts.
Parenting? Bring it on. I don't need sleep—I once started my day with business meetings in Cairo and ended it three days later at a club in Melbourne. Changing diapers? Please. It can't be any more challenging than changing out of Spanx on the back of a moving motorcycle. Training the little guy to run the family's real estate empire? He'll be all our bosses by the time he's four.
But living with my new co-guardian? The gruff, muscled, tattooed former military man who manages to check all my boxes while trying to sneak under my skin?
He needs to go.
Because the longer he stays, the more layers he's peeling off my heart.
But love isn't something that's ever diluted my gene pool, and I like my life just fine without it. I have awesome friends, this adorable baby and an obscene amount of money. Who needs love?
Turns out…maybe me.
Crazy for Loving You is a larger-than life ride through accidental parenthood featuring a fun-loving billionaire playgirl, a crusty Marine with a gooey center, a horny dolphin, the world's most obscene pool, and all the fun you'd expect from a world built by Lucy Score, Claire Kingsley, Kathryn Nolan, and Pippa Grant.
*Boobies & Noobies is part of the Frolic Podcast Network. You can find more outstanding podcasts to subscribe to at Frolic.media/podcasts*