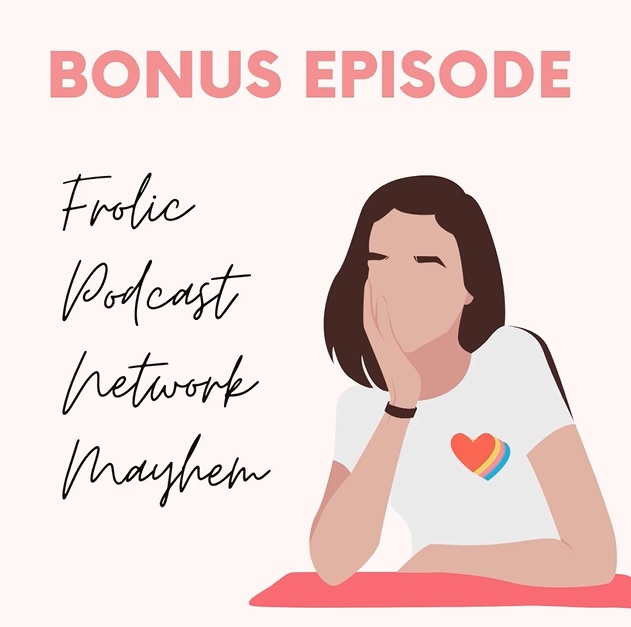 Summary:
When quarantine strikes, the Frolic Podcast Network bands together to share jokes, recipes, and our favorite Broadway musicals. In this unedited BONUS EPISODE, Kelly joins forces with some familiar podcasting faces to spread a little joy! From our homes to yours, the Frolic Fam wishes you well. Now, go waffle something up! 
This episode was recorded via Zoom Video. 
Featuring: 
Sarah Wendell, Smart Bitches Trashy Books
Zoe Wernick & Kelsey Lubbe, Tea & Strumpets 
Laura Von Holt, The Mermaid Podcast 
Show Notes (kinda...):
- Hello's and Welcome's
- The amazing things you can do with a waffle iron 
- Jokes all around (Thank you for the inspiration, Robin Bielman)
- What we're reading, watching, and listening to
- How to cope during times of quarantine (dance your buns off with Mark Kanemura on IG) 
- Ranch dressing on pizza - Yay or Nay?
- Baking as a pick-me-up 
- Name that (hypothetical) quarantine romance novel
- What plant is this? 
Books Mentioned:
- Soulless by Gail Carriger
- Changeless by Gail Carriger
- Blameless by Gail Carriger
- Burnout: The Secret to Unlocking the Stress Cycle by Emily & Amelia Nagoski
- Ice Planet Barbarians Series by Ruby Dixen
- Pestilence by Laura Thalassa 
Music Mentioned: 
- Hamilton Soundtrack
- Les Miserables Soundtrack (Plus the British family who reimagined "One Day More") 
- More Les Miserables renditions (Thanks to the wonderful world of Broadway)
- Mary Poppins Soundtrack 
- Future Nostalgia, Dua Lipa
Movies/Shows Mentioned: 
- Great British Bake Off
- Great Pottery Throw Down
- Junior Bake Off
Follow Boobies & Noobies on Twitter, Instagram, YouTube, & Facebook @boobiespodcast.
Website coming soon! 
*Boobies & Noobies is part of the Frolic Podcast Network. You can find more outstanding podcasts to subscribe to at Frolic.media/podcasts*