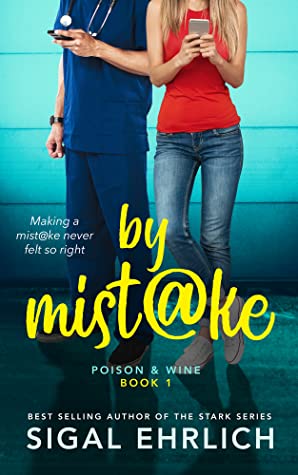 The Novel:
By Mistake (Poison & Wine #1)

The Author: 
Sigal Ehrlich

The Noobie:
Jaimee Bell
Twitter: @jaimeebell_
The Synopsis: 
There's so much going on in Anna's life. Teaching countless hours at the studio and nurturing the three major relationships of her life – her group of tight-knit friends, all while attempting to not screw up this whole adulthood thing leaves very little time to waste on yet another dating app. At this point, a relationship is off the menu. Being "self-partnered" is more than enough.
A serious relationship has been crossed off Liam Brody's list of goals, at least for the foreseeable future. Completing his residency and becoming a trauma surgeon is his only priority. Casual relationships, his friends, and books are the only things he's willing to lose his precious free time to.
When an accidental email starts a deep online connection, both Liam and Anna dive in with zero concern . . . because there's really no harm in getting close to someone who you'll never meet in real life, right?
Wrong.
When a turn of events brings their "safe" virtual connection to an unexpected face-to-face, Anna and Liam learn their online chemistry pales in comparison to the real deal. A realization that brings along the bazillion-dollar question – what do you do when you meet The One at the most impossibly wrong time?
Show Notes:
- Introducing Jaimee Bell, freelance writer turned erotica author
- Jaimee's personal experience with "digital love"
- Check out Jaimee's writing on sexual health, relationships, and more on Sofia Gray
- A sneak peek at Jaimee's work in progress!
- A few words on Fifty Shades of Grey's legacy - we need a new frame of reference when it comes to BDSM (00:11:51)
- Be sure to check out our Snacket episodes on Patreon!
- Today's reading: By Mistake by Sigal Ehrlich (00:16:47)
- Jaimee's relationship with romance novels 
- The benefits of a Dual POV
- A brief synopsis for By Mistake (00:21:07)
- Stop double-first-naming men!
- Overall impressions: A sweet "cilantro" read
- A beautiful bouquet... of red flags (00:31:57)
- A fine line between educational and "preachy" 
- Why aren't we having more digital sex in digital love stories?
- "Get on the plane, Rachel."
- Some not-so-steamy sexcerpts (00:47:27)
- Night fishing and funeral home dates?
- Heart, Humor, & Heat Ratings (00:54:31)
- More romance reading ahead 
Books Mentioned
- All the Dirty Little Things: An Erotica Collection by Jaimee Bell
- Eat Pray Love and Committed by Elizabeth Gilbert

Follow Boobies & Noobies on Twitter, Instagram, & Facebook @boobiespodcast and check out our blog, merch, and more on our brand new Boobies & Noobies website.
*Boobies & Noobies is part of the Frolic Podcast Network. You can find more outstanding podcasts to subscribe to at Frolic.media/podcasts*