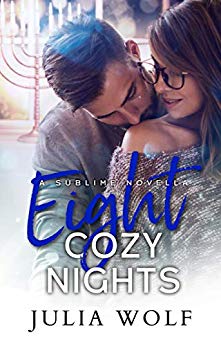 The Novella:
Eight Cozy Nights (The Sublime Book 6)
The Author: 
Julia Wolf 
The Noobies: 
Jason Berk (@guitarmanjb)
The Synopsis:
It'll take a miracle for the two of them to last more than eight nights...
Larissa:
Hanukkah's never been my favorite holiday. In fact, I usually forget it's happening. This year though, despite nearly being killed by my tall drink of water new neighbor, I'm in the mood to celebrate. Only I can't seem to find my menorah...
Yo:
Hanukkah's one of my favorite holidays. I look forward to celebrating every December. This year could be more interesting than ever, when a gorgeous, curvy (and grumpy) woman moves in next door. Only I seem to have misplaced my candles...
Together these two opposites will light up the night.
If you love Hallmark movies, but sometimes wish the language was a tad saltier and the loves scenes, well, existed, then this funny, sweet, and sexy Hanukkah novella is for you.
Shoutouts:
Bad at Love Podcast 
The Phoenix Nest
Feminists Without Mystique
Spoop Hour

Giveaway Winner:
Happily Ever Aftermath
*Boobies & Noobies is part of the Frolic Podcast Network. You can find more outstanding podcasts to subscribe to at Frolic.media/podcasts*