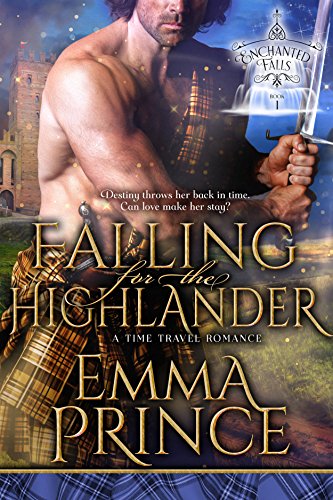 The Novel: 
Falling for the Highlander: A Time Travel Romance (Enchanted Falls Trilogy, Book 1)
The Author: 
Emma Prince
The Noobies: 
Jordan Williams (IG: @jordan_willyums)
The Synopsis: 
Destiny throws her back in time. Can love make her stay?
Caroline Sutton doesn't belong here. Not in the Highlands, and certainly not in the fourteenth century. 
Headstrong Caroline hopes an adventure will ease the pain of her parents' deaths. One minute, she's standing at the edge of a waterfall, daring her two sisters to jump with her. The next, she wakes up on the shores of a Scottish loch—600 years in the past. She's determined to return to her sisters and her own time, but Callum, the rugged Highland Laird who discovers her, has other ideas. When heat flares between them, all Caroline's plans are thrown into jeopardy, but if she gives in to her blazing desire, she may never want to leave the past behind.
Laird Callum MacMoran is in a bind. He has inherited a clan feud with no end in sight. When he comes across a strange yet strikingly beautiful woman on enemy lands, he thinks to use her as a bargaining chip to end the bloodshed. Little does he know this odd lass is more than she seems, and falling for her will threaten the peace he has worked so long to build. Torn between responsibility to his clan and his growing feelings for Caroline, can he love her enough to let her go? Or will fate decide their futures for them?