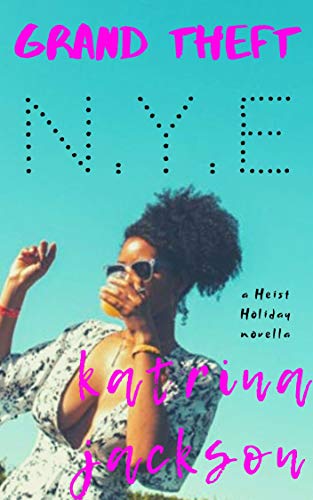 This episode is brought to you by Kensington's newest title from Alexandra Ivy, The Intended Victim. You can find The Intended Victim wherever books are sold. Find out more at Kensingtonbooks.com. 
The Novella:
Grand Theft N.Y.E.
The Author: 
Katrina Jackson 
The Noobies: 
Chauncey Woods (IG: @chaunceeee_)
So She Slays (@sosheslays)
The Synopsis:
Cleo Wright is just a happy scammer on a mission to rob a rich man before his ex-wife or the federal government seize all of his money and possessions. She's not expecting to meet another rich man who makes her want to use her nimble fingers for other, not thieving, things. But Robert Shimizu is just that man.
The two share a night of fast cars, expensive champagne and the best sex of her life. But Cleo is who she is and when Robert wakes up the next morning, she's long gone... with his car and a few other very expensive possessions.
It takes him months to track down the woman who stole his favorite watch and his heart, but when he does, there's fireworks.
Content Warnings:
Mentions of parental illness and death
Show Notes: 
- Sponsored promo for The Intended Victim by Alexandra Ivy
- "What's your sign, girl?" Our take on astrology
- So She Slays: a community that's your friend, but also tells it like it is
- The next show for you to get hooked on: The Circle
- She's Into It, a podcast/webseries featuring Shan Berries
- Katrina Jackson on Shelf Love Podcast 
- Highlighting Black History Month - "It's not just for black people; it's for everyone."
- Romance vs. Erotica and Erotic Romance
- Why we need more interracial couples in romance that don't include white people 
- Book Synopsis & Analysis 
- Cleo: a female protagonist with BIG CLIT ENERGY
- Robert: a rich snack (Kelly's picturing Henry Golding with a beard)
- Why is everyone 28 years old in romance novels?
- Who doesn't love a good con-artist story? But also, we need more con-women. 
- Not a lot of complaints about this one!
- Katrina Jackson's breaking down all the racial stereotypes in romance
- Tara Janzen's Steele Street series
- The Renaissance of Kristen Stewart
- Heart, Heat, & Humor
- Could this be a modern take on dating? 
- We're reading to manifest our own romances by reading romance!
Shoutouts: 
Katrina Jackson on Shelf Love
So She Slays
She's Into It 
Shan Berries, co-host of She's Into It 
Joanne the Scammer
Follow Boobies & Noobies on Twitter, Instagram, & Facebook @boobiespodcast
*Boobies & Noobies is part of the Frolic Podcast Network. You can find more outstanding podcasts to subscribe to at Frolic.media/podcasts*