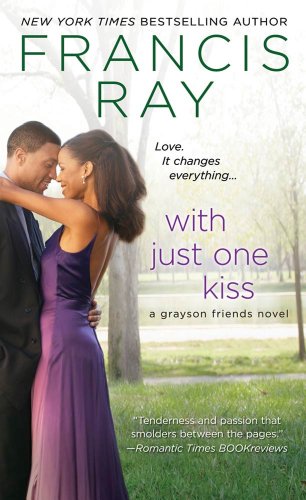 This episode is brought to you by The Rebellious Rancher, the third book in the Millers of Morgan Valley series by Kate Pearce. The Rebellious Rancher is available wherever books are sold.
The Novel:
With Just One Kiss (Grayson Friends #6)
The Author: 
Francis Ray
The Noobie:
Lauren, Writer and Creator of Literary Dates 
The Synopsis:
Cicely St. John is not impressed by her friend C.J. Callahan's so-called passion in life: running a New York City bar that he inherited from his uncle. So why can't Cicely stop thinking about the dance they shared at their mutual friends' wedding—or the mutual attraction she felt in C.J.'s arms?
As far as C.J. is concerned, Cicely is a snob whose "passion" in life—writing for fashion magazines—is as pretentious as she is. So why can't he keep his eyes off her? C.J. has a business to run. And Cicely has a job opportunity in Paris. Neither of them even has time to think about romance right now. But maybe, just once, the two could test their friendship…with just one kiss.
Show Notes:
- Sponsored promo for The Rebellious Rancher 
- Introducing Lauren, the blogger behind Literary Dates
- Shoutout to author Sarah Smith for making the connection - preorder Sarah's new book, Simmer Down (00:02:53)
- Dating IRL vs. Dating book boyfriends
- How long do you have to live in NYC to be a legit New Yorker?
- Coming Soon: Literary Dates in other States...
- Where to find & follow Literary Dates (00:17:43)
- Selecting a romance novel set in NYC: With Just One Kiss (00:18:48)
- Synopsis for With Just One Kiss
- Lauren recommends: Sarah Smith, Skye McDonald, & Colleen Hoover
- CJ... the book boyfriend of our dreams (00:29:19)
- The great tea controversy
- Shout out to My Worst Date Podcast 
- Virtual speed dating: yay or nay?
- Cicely & CJ: a match made in romance
- A delicious romance... do not read hungry! (00:48:10)
- Kelly's petty note about cinnamon rolls (00:49:18)
- The mysterious ice skating rink...
- One major complaint: stop telling women they can't "have it all" (00:55:06)
- A couple of sexcerpts...
- Lauren's Literary Date Recs for With Just One Kiss (01:08:51)
- Heart, Heat, & Humor Ratings (01:17:28)
- "His burgeoning desire" 
- Make yourself feel good. Period. 
Follow Boobies & Noobies on Twitter, Instagram, & Facebook @boobiespodcast and check out our blog, merch, and more on our brand new Boobies & Noobies website.
*Boobies & Noobies is part of the Frolic Podcast Network. You can find more outstanding podcasts to subscribe to at Frolic.media/podcasts*