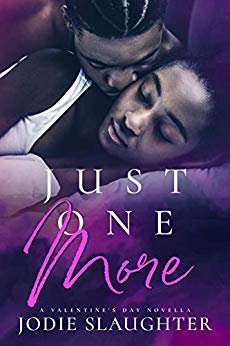 This episode is sponsored by Best Women's Erotica of the Year, Volume 5 edited by Rachel Kramer Bussel, published by Cleis Press. 
The Novella:
Just One More: a Valentine's Day Novella 
The Author: 
Jodie Slaughter 
The Noobies: 
Krystal (IG: @krystal_casey)
Cambria (IG: @camofclansquare)
The Synopsis:
Tattoo artist Whitney Harris loves Valentine's Day.
The bright colors, giant hearts, and sugary sweet coating that seems to cover the world on February 14th make her feel all kinds of warm and fuzzy inside. She may be more festive than the average person, but her plans for her long weekend are pretty tame. As long as she gets to stay in her bed, marathon a ton of romantic movies, and eat at least three of her favorite pink heart cupcakes, she'll count it as a win. The very last thing she expects is for a handsome stranger to completely upend all of that.
The only thing Victor Grant enjoys more than being a barber is Valentine's Day.
For him, it's all about the experience of romance and the possibility of forever. The man loves love and he's determined to be apart of his own great love story someday. Even if that means taking a few losses along the way when things don't work out. Just when he thinks his Valentine's Day has turned into a total bust, a beautiful stranger crashes into his life and suddenly makes his long weekend a lot more interesting.
A near-disastrous first meeting brings them together, but with both chemistry and desire running high, one sexy night together doesn't feel nearly enough like true satisfaction.
Details:
Sponsored promo for Best Women's Erotica of the Year, Volume 5
Pounce, the game of Competitive Solitaire: Who knew that was a thing?
Travel Collectibles 
Black History Month... but why is it the shortest month of the year? 
Joaquin Phoenix - You never know what to expect when the man opens his mouth
Valentine's Day Plans 
The Book
The "Straight" Man/Woman Character vs. Their Quirky Best Friends
Sandy is the Worst Character in Grease
First Person POV or no? Cambria Hates Holden Caulfield.
Heart, Heat, & Humor 
When it comes to the sex, Whitney + Vic = #SexGoals
If you had to choose between men and cupcakes...?
The future of romance for Krystal and Cambria...
Shoutouts: 
Alyssa Cole's The Reluctant Royals series 
Follow Boobies & Noobies on Twitter, Instagram, & Facebook @boobiespodcast
*Boobies & Noobies is part of the Frolic Podcast Network. You can find more outstanding podcasts to subscribe to at Frolic.media/podcasts*