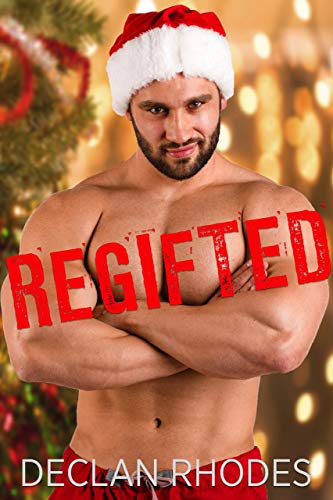 The Novella:
Regifted
The Author: 
Declan Rhodes
The Noobies: 
Andrea Martucci, Host of Shelf Love 
The Synopsis:
"Regifted? Isn't that what people do with fruitcakes?"
Vincent, owner and trainer at the most exclusive gym in the city, is in the middle of a bad luck streak in his dating game. To avoid having a blue Christmas, he reluctantly volunteers to participate in a date auction event at the holiday benefit for his city's LGBTQ community center. Vincent's thrilled when a wealthy silver fox with muscles as big as his own wins the auction.
All is going well for the merriest of Christmases until Vincent finds himself regifted to Desmond, a viola-playing nerd who wants a date for a performance of the Nutcracker at the city ballet.
Desmond can't believe his good fortune, and Vincent is laid low by the humiliation of his rejection. With the help of good friends Maeve and Jerry, both Vincent and Desmond learn that there is much more to falling in love at Christmas than shallow appearances.
There's plenty of good humor, steamy scenes, and a happily-ever-after ending in this muscle man and nerd romance.
Shoutouts: 
IG: @b.andherbooks
Giveaway Winner:
Nerdy Bitches Podcast

*Boobies & Noobies is part of the Frolic Podcast Network. You can find more outstanding podcasts to subscribe to at Frolic.media/podcasts*