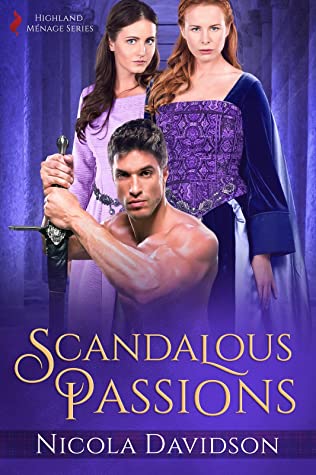 This episode is brought to you by Never Conspire with a Sinful Baron, the fourth book in Renee Ann Miller's Infamous Lords series. Never Conspire with a Sinful Baron is out now, and available wherever books are sold. 
The Novel:
Scandalous Passions
The Author: 
Nicola Davidson
The Noobies: 
Nikita Andester 
The Synopsis:
Scotland, 1504.
Lady Janet Fraser didn't earn her reputation as Scotland's most notorious sinner by following the rules. A former mistress of King James IV, she's content to live her life from pleasure to pleasure. Even if those pleasures—and people—are forbidden.
People like Sir Lachlan Ross, given the moniker The Highland Beast, a man as intimidating in battle as he is in size. A beast she discovers secretly wishes to be tamed and submit to her dominance.
Or like her new ward, Lady Marjorie Hepburn, a convent-raised virgin with a desire to be taught all the sensual secrets of the marriage bed. Things that Janet is fully willing to teach her, again and again. There's much for her to learn.
And forbidden pleasures like the three of them together in one bed.
But Lachlan and Marjorie both have ties to the king. As wicked lusts are indulged and affection unexpectedly grows into love, breaking the rules this time could mean all of their undoing…
Show Notes: 
- Sponsored promo for Never Conspire with a Sinful Baron
- Introducing Pride Month and our fabulous guest, Nikita Andester
- Our favorite months and seasons (does Awards Season count?) 
- The disconnect between artists and art consumption 
- What changes can YOU make? Reference your "zone of control"
- Celebrating Pride Month and Fighting for Racial Equality (00:11:43)
- Nikita recommends Black-owned sex shops and we highlight Feelmore in Oakland, CA
- Why aren't we experimenting and exploring more??
- What does Pride Month mean to you? (00:21:05)
- Pride reading & watching recommendations - see full list below (00:24:09)
- Find and follow Nikita on Twitter or on her personal website
- Introducing Scandalous Passions (00:32:38)
- A brief synopsis for Scandalous Passions (00:35:10)
- Falling in love with the dedication page 
- Finding romance novels that go beyond cishet and "white people problems"
- Discussing non-binary and trans characters in literature - their journey does not always need to be about discovering their identity 
- What we loved about this book (00:44:40)
- Sexual agency, speech impediments, and body positivity in one book?!
- But WTF is up with that bacon and egg hair washing scene? 
- Some saucy sexcerpts (01:03:55)
- "We forget that sexuality is wholesome."
- Heart, Humor, and Heat ratings 
- This could be the start of Nikita's romance-reading Renaissance 

Pride 2020 Recs: 
- "Las chicas del cable" (aka "Cable Girls") on Netflix 
- Janelle Monae's "Dirty Computer"
- Starless by Jacqueline Carey 
- Terra Ignota by Ada Palmer
- Eating Chinese Food Naked by Mei Ng 
- "Pose" on Netflix 
- "Self Made" on Netflix
- Fake Out (Book #1 in the Fake Boyfriend series by Eden Finley)
- Big Gay Fiction Podcast 
Follow Boobies & Noobies on Twitter, Instagram, & Facebook @boobiespodcast and check out our blog, merch, and more on our brand new Boobies & Noobies website.

*Boobies & Noobies is part of the Frolic Podcast Network. You can find more outstanding podcasts to subscribe to at Frolic.media/podcasts*