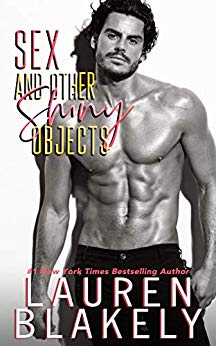 The Novel:
Sex and Other Shiny Objects 
The Author: 
Lauren Blakely 
The Noobies: 
Ronny Pascale 
The Synopsis:
The second the test-the-sexy-scenes offer landed in my lap, I said yes.
After all, I've been damn curious about a few things I've read in romance novels. Do buttons truly go flying across the floor when you rip off a guy's shirt? Is staircase nookie hella hot or does it leave you with a big old bruise mark on your back? And don't even get me started on all that panty shredding, and whether it even works.
Time to find out as I embark on Project Romance Novel Scenes Research, at the request of my hotshot book editor bestie.
All I need is a willing scene partner. Enter Tristan, my best guy friend. The witty, tell-it-like-it-is, bearded hottie volunteers for the experiment.
He's also the guy who gave me the most devastating, toe-curling kiss of my life ten years ago. But nothing has happened since then.
And nothing will come between my panties and our friendship now since we have a plan to keep it PG.
But once the buttons start flying, all bets are off...
S-E-X AND OTHER SHINY OBJECTS is a standalone romance in the BOYFRIEND MATERIAL series. The other titles are ASKING FOR A FRIEND and ONE NIGHT STAND-IN.
Show Notes: 
- Memories of Myspace Top 8 
- What do I do if my dog eats a tampon? Based on a true story
- Introducing Ronny Pascale and "Ronny 365": 365 Podcasts in 2020
- How to become verified or "famous enough"
- Twitter vs. Instagram
- What's not to love about game shows and cooking competitions? 
- Fifty Shades of Grey the Musical 
- 365 dni ("365 Days")
- Stuffed Breads & Anthony Bourdain
- Plot Synopsis for Sex and Other Shiny Objects 
- Apologies to anybody named Gage...
- Positive and non-toxic male relationships are so refreshing 
*Cue noisy apartment-dwelling children in background*
- Reenactment shows are our vice 
- Do New Yorkers really have bathtubs big enough for bath sex?
- New York notes: what is a bottega? 
- Some of our favorite (and least favorite) lines 
- Let's talk about badminton... 
- A couple more petty notes
- The voice of Tristan sounds like a chainsmoker (just in case you listen to the audiobook)
- The coming out story we all need and love
- The beauty/difficulty of 69-ing
- Chocolate, chocolate, chocolate 
- Heart, Heat, & Humor
- If you need a podcast guest, meet Ronny! 
Shoutouts: 
Talkward Podcast
Rockwell Table & Stage: Parody Musicals 
Fine & Raw Chocolate 
Follow Boobies & Noobies on Twitter, Instagram, & Facebook @boobiespodcast
*Boobies & Noobies is part of the Frolic Podcast Network. You can find more outstanding podcasts to subscribe to at Frolic.media/podcasts*