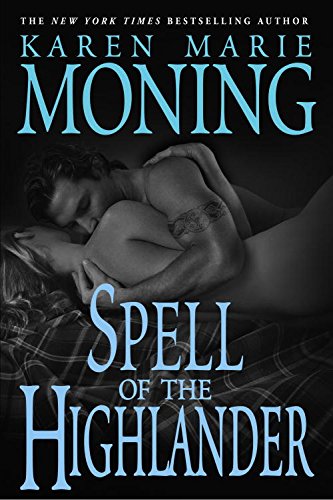 The Novel:
Spell of the Highlander
The Author: 
Karen Marie Moning 
The Noobies: 
Abby Bokun
The Synopsis:
Powerful. Sensual. Seductive. He is all that is shamelessly erotic in a man. In her sexiest Highlander novel yet, New York Times bestselling author Karen Moning stirs up a sizzling brew of ancient mystery and modern passion as she brings together a devilishly handsome Celtic warrior trapped in time . . . and the woman who's about to pay the ultimate price for freeing him. Age-old secrets haunt them. Deadly danger and irresistible desire shadow their every move. It's a relationship for the ages. And all that separates them is a mere thirteen hundred years. . . .
Jessi St. James has got to get a life. Too many hours studying ancient artifacts has given the hardworking archaeology student a bad case of sex on the brain. So she figures she must be dreaming when she spies a gorgeous half-naked man staring out at her from inside the silvery glass of an ancient mirror. But when a split-second decision saves her from a terrifying attempt on her life, Jessi suddenly finds herself confronting six and a half feet of smoldering, insatiable alpha male.
Heir to the arcane magic of his Druid ancestors, eleven centuries ago Cian MacKeltar was trapped inside the Dark Glass, one of four coveted Unseelie Hallows, objects of unspeakable power. When the Dark Glass is stolen, an ancient enemy will stop at nothing to reclaim it, destroying everything in his path–including the one woman who may just hold the key to breaking the ninth-century Highlander's dark spell. For Jessi, the muscle-bound sex god in the mirror is not only tantalizingly real, he's offering his protection–from exactly what, Jessi doesn't know. And all he wants in exchange is the exquisite pleasure of sharing her bed.
Yet even as Cian's insatiable hunger begins to work its dark magic on Jessi, his ancient enemy is about to obtain the final and most dangerous of the Unseelie Hallows–and the ninth-century Highlander must stop him from getting it. Nothing less than the very fabric of the universe and two passionately entwined lives are at stake–as Cian and Jessi fight to claim the kind of love that comes along but once in an ice age. . . .
*TRIGGER WARNING* While there is no rape or sexual assault depicted in this book, there are several mentions/threats of such acts.
Show Notes: 
- Prepare your earbuds... this is a long (but HILARIOUS) discussion!
- Introducing the amazing Abby Bokun, from our Frisky Fanfiction Steamy Spotlight episode 
- Thanks to IG user bisexual_booknerd for recommending this book during the Frolic livestream
- Starting a series in the middle vs. in the beginning 
- Remember that problematic stalker-sign-scene from "Love Actually"?
- A not-so-brief synopsis for Spell of the Highlander (with commentary)
- His name is Cian (KEY-on), not Cian (See-an)
- Abby makes some Dungeons and Dragons connections
- The amount of early 2000's references - does anybody else remember "The 10th Kingdom"? 
- Plus some shoutouts to "Dirty Dancing" and Janet Evanovich's Stephanie Plum series?!
- Some problematic elements, namely Cian's "power to influence" - This is the Voice!
- Call back to "danger boners" in our To Have and to Hoax episode with Sarah Wendell
- Sorry Cian, we might like your family better than you, bro
- Things We Like: A fantasy story that doesn't take itself too seriously, an adventurous, history-obsessed heroine with agency, a fun set of side characters (who, thankfully, have their own books in the series), a man in a mirror strapped to a chair
- Not Our Fave: The soulmates trope, but if you use it, use it to the full potential! Also, some lowkey "rapey" vibes, and the ending exposition that still has us puzzled...
- Abby's Scottish accent is EVERYTHING
- The author's use of italics for flashbacks threw us off 
- Why does she lose her power and talent as she falls in love? Love shouldn't make you stupid...
- Does anybody know what "the promise of sex" smells like?
- Ties to Tiger from Laurann Dohner's New Species series (check out Learning the Tropes' review of Fury, the first book in the series)
- If you want more Scottish reads, check out our review of Falling for the Highlander. 
- A couple of steamy sexcerpts
- Heart, Heat, & Humor Ratings  
- The Heat rating is a toss up, considering the not-so-consensual moments of dialogue
- Send your fantasy romance recs my way! 
Shoutouts
- Learning the Tropes Podcast
- Laurann Dohner
- Janet Evanovich
- The Frolic Podcast Network
Follow Boobies & Noobies on Twitter, Instagram, Pinterest & Facebook @boobiespodcast, find us and what we're reading on Goodreads, and be sure to check out our BRAND NEW WEBSITE at www.boobiesandnoobies.com 

*Boobies & Noobies is part of the Frolic Podcast Network. You can find more outstanding podcasts to subscribe to at Frolic.media/podcasts*