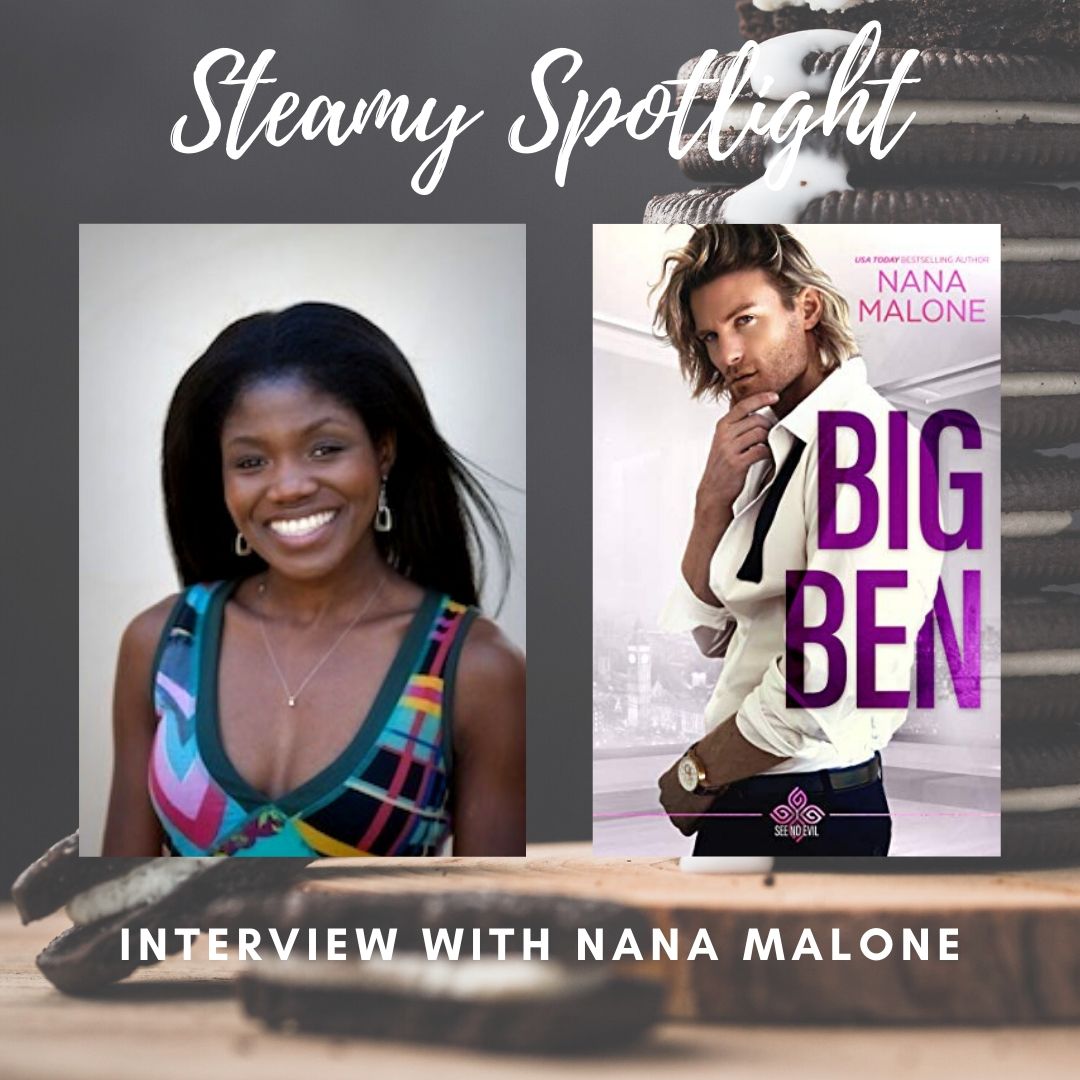 This episode is brought to you by Island Affair, the first book in a brand new series from USA TODAY bestselling author, Priscilla Oliveras. Island Affair is out now, and available wherever books are sold. 
Summary:
In the first of two Steamy Spotlights for May (because double the trouble, double the fun!) Kelly interviews bestselling author, Nana Malone about her latest novel, Big Ben. Other discussion topics include finding solace in your second office during quarantine (in Nana's case, the car), writing/reading to your Id, and our shared obsession with all things Robin Hood. 
Guest: 
Nana Malone 
Show Notes: 
- Surviving the Covid-19 Quarantine 
- The struggles of writing at home with tiny humans around
- The "Covid 15" - Nana has a thing for Oreos 
- Not as young as we used to be... 
- Maintaining a normal(ish) work schedule during quarantine 
- Escaping the editing process by any means possible 
- A secret love affair with romance novels that began in Ghana...
- The "black market" for book exchanges
- Reading while writing, or no? (00:25:30)
- Praise for diversity in romance
- Shoutout to Brenda Jackson, Beverly Jenkins, and Sandra Kitt
- You're not going to be "everyone's cup of tea" and that's okay!
- Jennifer Lynn Barnes and the Psychology of Fiction: Writing to your Id (00:31:00)
- Nana and I both have a thing for Robin Hood
- Somewhere between Meli Raine and Julia Kent - it's funny, but people are gonna get shot at
 
*Promo for The Mermaid Podcast* (00:35:05)
- Introducing Big Ben - office romance meets The Skulls and Ocean's Eleven (00:36:03)
- We must talk about The Skulls (Shoutout to Rachel Van Dyken)
- Other Heist Stories to watch: Money Heist, Inside Man, Takers, The Italian Job, Widows
- Nana's "thing" for Clive Owen and Hayden Christenson 
- Praise for the Big Ben cover (and cover model): James Clippinger
- Big Ben's ties to Nana's Royals Series (Full Reading Order)
- Planting "Easter eggs" for the readers 
- Adventures living abroad in London - from Princess Diana to parties with models 
- Prince Harry swinging his bid d*ck up in here (00:49:21)
- Loving the royals for their traditions... and then writing royals to turn those traditions around
- The idea behind Big Ben and the See No Evil Trilogy (00:54:09)
- Shoutout to Sierra Simone - Making Your Id List (whatever "you're trash for")
- Raise your hand if you're an achiever... Creating strong female heroes 
- Nana's Id List: Robin Hood, tight banter, snarky/cocky heroes, superheroes, secret societies, strong ass female characters, a training montage (01:01:20)
- Shoutout to Mia Sosa for her latest release, The Worst Best Man 
- Nana has a fangirl moment for author Juno Rushdan
- Apologies in advance for the cliffhanger in Big Ben... 
- Look out for the next book in the series, The Benefactor (available June 9th) 
- The stories that Nana is dying to write... Alias fanfic and La Femme Nikita (01:11:04) 
- Back to heist stories with Covert Affairs and White Collar - Nana remembers college with Joe Manganiello and Matt Bomer 
- Nana's advice to writers: BITCHOK "Butt in the Chair, Hands on Keyboard" (01:17:45)
- Nana's advice for Noobie romance readers: Make your own Id list! (01:22:42)
- "We're all in romance together. What's on your Kindle is YOUR business." - Nana Malone
- Understanding what you love about the books you read
- Connect with Nana Malone on social media and on her website! 
Follow Boobies & Noobies on Twitter, Instagram, & Facebook @boobiespodcast and check out our blog, merch, and more on our brand new Boobies & Noobies website.

*Boobies & Noobies is part of the Frolic Podcast Network. You can find more outstanding podcasts to subscribe to at Frolic.media/podcasts*