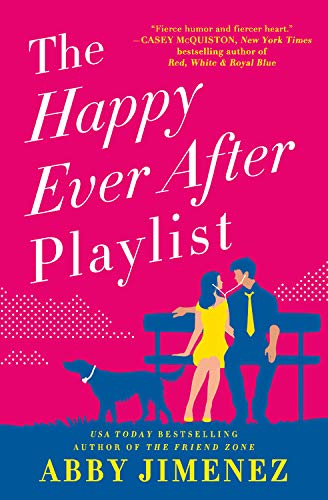 The Novel:
Happy Ever After Playlist (The Friend Zone #2)
The Author: 
Abby Jimenez

The Noobie:
Hadas Lev
IG: @hadas_lev
Twitter: @levhadas
*Watch Hadas in the short film, The Audition*

The Synopsis: 
Two years after losing her fiancé, Sloan Monroe still can't seem to get her life back on track. But one trouble-making pup with a "take me home" look in his eyes is about to change everything. With her new pet by her side, Sloan finally starts to feel more like herself. Then, after weeks of unanswered texts, Tucker's owner reaches out. He's a musician on tour in Australia. And bottom line: He wants Tucker back.
Well, Sloan's not about to give up her dog without a fight. As their flirty texts turn into long calls, Sloan can't deny a connection. There's no telling what could happen when they meet in person. The question is: With his music career on the rise, how long will Jason really stick around? And is it possible for Sloan to survive another heartbreak?
*Content Warning* A large percentage of this book focuses on a character's grief/depression following the death of a loved on. There's also some minor discussion of drug abuse/addiction. 
Show Notes:
- Introducing actor and writer, Hadas Lev
- Appreciate your local restaurant and grocery store staff
- Filmmaking during the pandemic (00:07:38)
- Dark comedy during the time of Covid19 - "This is the End" and "I Care a Lot" 
- Coming Soon... "corn porn" with the soundtrack by Korn
- March is the month for "Digital Love"
- The Happy Ever After Playlist (00:13:10)
- Hadas' prior relationship with romance
- The fandom is real with Bridgerton and Lore Olympus 
- A brief synopsis for The Happy Ever After Playlist (00:21:41)
- Meddling animals in romance novels
- Overall impressions
- The next book in the series: Life's Too Short 
- The Happy Ever After Playlist Playlist 
- Prepare to feel extremely frustrated...
- A few semi-steamy sexcerpts (00:47:20)
- Lots of love for the audiobook performers
- More tattooed heroines, please!
- "Petty notes" about karaoke and chips (00:59:05)
- And we're back to cinnamon rolls and orange juice...
- The future of romance reading
- Wrapping up with Hadas

Follow Boobies & Noobies on Twitter, Instagram, & Facebook @boobiespodcast and check out our blog, merch, and more on our brand new Boobies & Noobies website.
*Boobies & Noobies is part of the Frolic Podcast Network. You can find more outstanding podcasts to subscribe to at Frolic.media/podcasts*