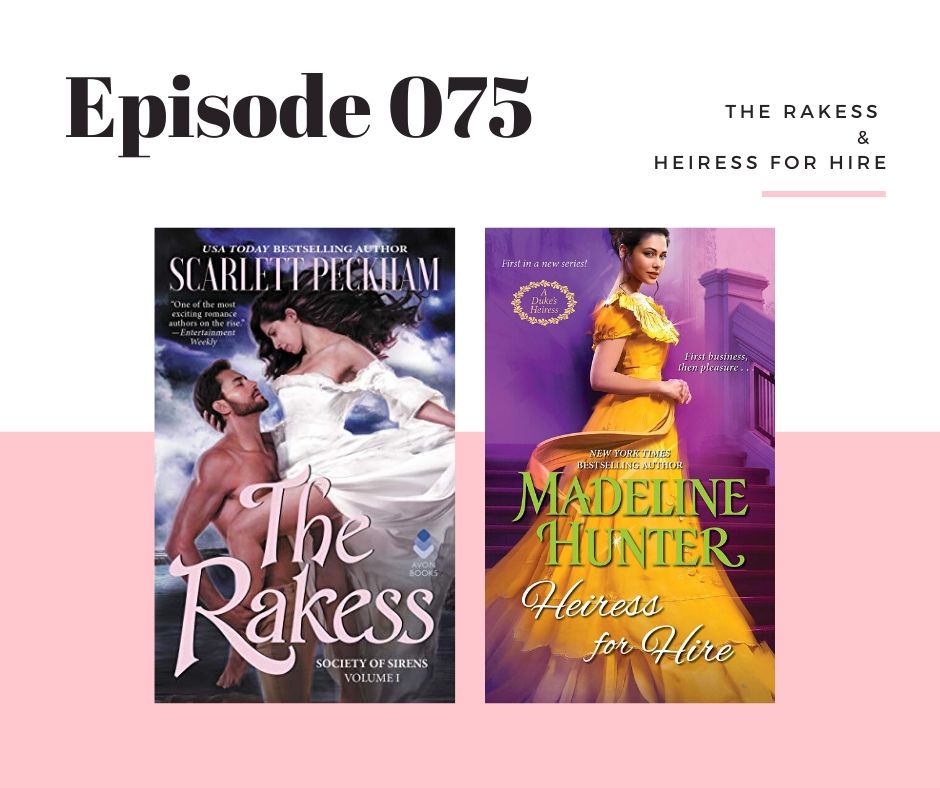 This episode is brought to you by Wind River Undercover, the final book in Lindsay McKenna's Wind River Valley series. Wind River Undercover is out now, and available wherever books are sold. 
The Novel:
The Rakess (Society of Sirens Book #1) by Scarlett Peckham
Heiress for Hire (A Duke's Heiress Romance Book #1) by Madeline Hunter 
The Authors: 
Scarlett Peckham
Madeline Hunter 
The Noobies: 
Erin Nickell 
The Rakess Synopsis:
She's a Rakess on a quest for women's rights…
Seraphina Arden's passions include equality, amorous affairs, and wild, wine-soaked nights. To raise funds for her cause, she's set to publish explosive memoirs exposing the powerful man who ruined her. Her ideals are her purpose, her friends are her family, and her paramours are forbidden to linger in the morning.
He's not looking for a summer lover…
Adam Anderson is a wholesome, handsome, widowed Scottish architect, with two young children, a business to protect, and an aversion to scandal. He could never, ever afford to fall for Seraphina. But her indecent proposal—one month, no strings, no future—proves too tempting for a man who strains to keep his passions buried with the losses of his past.
But one night changes everything...
What began as a fling soon forces them to confront painful secrets—and yearnings they thought they'd never have again. But when Seraphina discovers Adam's future depends on the man she's about to destroy, she must decide what to protect… her desire for justice, or her heart.
Heiress for Hire Synopsis: 
Minerva Hepplewhite has learned the hard way how to take care of herself. When an intruder breaks into her home, she doesn't swoon or simper. Instead she wallops the rogue over the head and ties him up—only to realize he is Chase Radnor, the man who nearly got her convicted of her late husband's murder. Now he's insisting that Minerva has inherited a fortune from his uncle, a wealthy Duke. Only one thing could surprise her more: her sudden attraction to this exasperating man . . .
Chase can't decide whether Minerva is a wronged woman or a femme fatale. Either way, he's intrigued. Since the scandal surrounding her husband's death, she has set up a discreet detective business to rival Chase's own. She may be the perfect person to help him uncover the truth about his uncle's demise. But as proximity gives way to mutual seduction, Chase realizes he craves a much deeper alliance . . .
Show Notes:
- Promo for Wind River Undercover by Lindsay McKenna 
- Meet Erin Nickell, a smart woman obsessed with reality television
- Erin schools Kelly in the differences between "Below Deck" and "Below Deck: Mediterranean"
- Other faves include "Dance Moms", "The Challenge", and "#RichKids of Beverly Hills" 
- Callback to "what you're trash for" from our Steamy Spotlight: Interview with Nana Malone
- Constructing our future reality TV romance novel...
- LISTENERS: Please share your reality TV/behind the scenes TV romance novel recs! 
- Intro to our show format for today (and the explanation behind it) 00:09:17
- "I'll show you mine if you show me yours"
- Thank you Patreon patrons!
- Be sure to check out (and join) the Boobies & Noobies Book Club - Artful Lies is our May pick!
- All it takes is the right book to get hooked on reading
- Erin recaps The Rakess (00:18:40) - Feminism, female friendships, and a widower architect with baggage... but not enough "fuckery" 
- A brief history of Mary Wollstonecraft and her ties to The Rakess 
- Kelly recaps Heiress for Hire (00:28:30): "Murder She Wrote" meets "Knives Out"
- Similarities (00:37:20): Sexual hang-ups/baggage, first book in a series, women challenging gender roles, fully-realized characters, men going down on women 
- A couple steamy sexcerpts - She takes him "into herself" several times
- One more mention of "Murder She Wrote"
- Heart, Heat, & Humor ratings for both books... These books are all about heart!
- We're in it to win it for the rest of the series 
- LISTENERS: Do you want to see more book comparisons?

Shoutouts:
Tea & Strumpets 
Heather Toth (*New Patron*)
Claire Kingsley & Lucy Score's Bootleg Springs series 
Follow Boobies & Noobies on Twitter, Instagram, & Facebook @boobiespodcast and check out our blog, merch, and more on our brand new Boobies & Noobies website.
*Boobies & Noobies is part of the Frolic Podcast Network. You can find more outstanding podcasts to subscribe to at Frolic.media/podcasts*