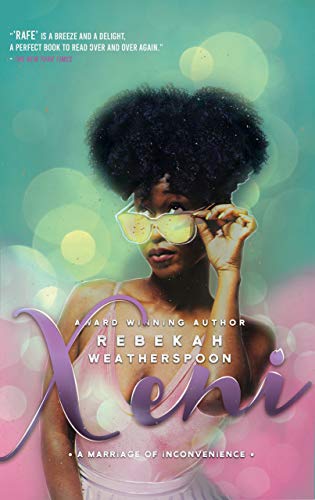 This episode is brought to you by Owner of a Broken Heart, the first book in the Richardson Sisters series, by Cheris Hodges. Owner of a Broken Heart is out now, and available wherever books are sold. 
The Novel:
Xeni: A Marriage of Inconvenience (Loose Ends Book #2)
The Author: 
Rebekah Weatherspoon 
The Noobies: 
Charia Rose (IG: @charia)
The Synopsis:
FROM NEW YORK TIMES ACCLAIMED AUTHOR REBEKAH WEATHERSPOON, COMES THE SECOND INSTALLMENT IN A NEW SERIES THAT BRINGS TRUE HAPPILY EVER AFTERS TO SOME OF YOUR FAVORITE SUPPORTING CHARACTERS.
She just wanted to claim her inheritance. What she got was a husband…
Xeni Everly-Wilkins has ten days to clean out her recently departed aunt's massive colonial in Upstate New York. With the feud between her mom and her sisters still raging even in death, she knows this will be no easy task, but when the will is read Xeni quickly discovers the decades old drama between the former R&B singers is just the tip of the iceberg.
The Secrets, lies, and a crap ton of cash spilled on her lawyer's conference room table all come with terms and conditions. Xeni must marry before she can claim the estate that will set her up for life and her aunt has just the groom in mind. The ruggedly handsome and deliciously thicc Scotsman who showed up at her aunt's memorial, bagpipes at the ready.
When his dear friend and mentor Sable Everly passed away, Mason McInroy knew she would leave a sizable hole in his heart. He never imagined she'd leave him more than enough money to settle the debt that's keeping him from returning home to Scotland. He also never imagined that Sable would use her dying breaths to play match-maker, trapping Mason and her beautiful niece in a marriage scheme that comes with more complications than either of them need.
With no choice but to say I do, the unlikely pair try to make the best of a messy situation. They had no plans to actually fall in love.
**This is a stand alone romance that can be read along with RAFE: A Buff Male Nanny. It features a woman sick to death of her family's sh*t and a plus-size Scotsman who just wants to make sweet, sweet music. And love.**
Show Notes: 
- Sponsored promo for Owner of a Broken Heart by Cheris Hodges 
- The hidden talents you should put on your resume 
- Introducing Charia Rose and taking it back to our time in Chicago
- Status Update: "In Progress" 
- Have you followed us on Patreon? We've got Bonus Content coming your way this March.  
- We need more pegging in romance novels. Period.
- Rafe: A Buff Male Nanny (Loose Ends Book #1)
- Creating strong black characters and thinking beyond Black History Month 
- The problems with "color blind" casting and our high school theatre woes 
- Plot synopsis for Xeni
- Why don't we have more plus size men in romance novels?
- Also, do people have a thing for big hands?
- Shoutout to the ladies - we're all witches and princesses. Look out, gents!
- Pegging, Fisting, and Sexcerpts, oh my! 
- Safe Oral Sex? Yes, please. No dirty dicks for us. 
- Heart, Heat, & Humor
- Should we start a Boobies & Noobies book club? We want to hear from you! 
- The Drunk Fanfiction Podcast Charia and I need.
Shoutouts: 
Tamara Lush on Wattpad - Shelf Love
Rebekah Weatherspoon
Abby Bokun, from our Frisky Fanfiction Steamy Spotlight episode
Suck My Fanfic
Follow Boobies & Noobies on Twitter, Instagram, & Facebook @boobiespodcast
*Boobies & Noobies is part of the Frolic Podcast Network. You can find more outstanding podcasts to subscribe to at Frolic.media/podcasts*