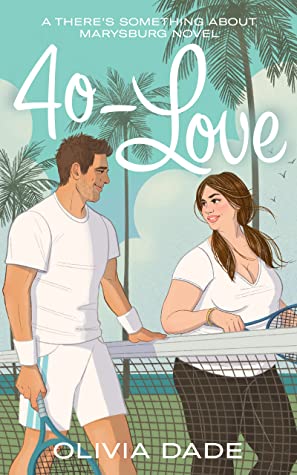 This episode is sponsored by The Siren and the Deep Blue Sea, the latest book in the Embraced by Magic series by New York Times and USA Today bestselling author, Kerrelyn Sparks.
The Novel:
40-Love (There's Something About Marysburg #1)

The Author: 
Olivia Dade
The Noobie:
Alysa, Host of Fataliteas and Best Forevers Podcast
The Synopsis:
This match is no game.
When a rogue wave strips Tess Dunn of her bikini top, desperate, half-naked times call for desperate, please-cover-me-kids-are-coming-closer measures. Enter Lucas Karlsson, AKA that flirty Swede in the water nearby. When he prevents her bare buoys from being exposed to fellow vacationers, even an ocean can't drown the sparks that fly.
Lucas, a former top-level tennis pro now giving lessons at the resort, fled there after the abrupt, painful end to his injury-plagued career. But he's finally ready to move on with his life—and after a few late-night, hands-on sessions with Tess, he's eager to prove he's the ace she wants.
But this match comes with challenges: She's forty, and at twenty-six, he's barely old enough to rent a car. Worse, they only have two weeks together before Tess returns to her assistant-principal life in Virginia. During that brief time, they'll have to play hard, take a few risks, and find out whether their chemistry is a one-shot wonder…or whether they're meant to be doubles partners for life.
Show Notes:
- Sponsored promo for The Siren and the Deep Blue Sea
- Introducing Alysa, podcaster and professor extraordinaire 
- Coming Soon: Unrequited, a podcast focused on unrequited love
- Alysa's professional experience with "interpersonal communications" and the "dark side"
- Shoutout to parents, students, and educators (00:08:24)
- Want to start a podcast? Reach out to some college students
- "I came out of the womb searching for friends."
- Be sure to check out Alysa's podcasts, Fataliteas and Best Forevers
- Cultivating our perception of love based on the media we consume (00:21:13)
- Elle Kennedy's Off Campus series (or anything by Elle Kennedy) 
- Patreon Shoutouts (00:32:23)
- Cocktober and Boobsmas are coming...
- Synopsis today's reading, 40-Love (00:34:30)
- Romance very different from Joan Wilder's books ("Romancing the Stone")
- Body-Positive, sex-positive, and more forward-thinking than expectations
- FINALLY, a book about a plus-size woman without it being about a woman being plus-size (00:44:25)
- Risky communication 
- Highlighting male characters with emotions
- Make it more... Swedish? (00:59:51)
- Talk about a hilarious book!
- Sexcerpts, Consent, & Period Sex (01:04:49)
- Beings themselves, but also being themselves TOGETHER
- A few more Sexcerpts & Shower Sex (01:16:01)
- More romance in the movies, please! Netflix, hire us...
- How do we even begin to cast this film?
- Heat, Heart, & Humor Ratings (01:25:28)
- Wrap-up with Alysa
Follow Boobies & Noobies on Twitter, Instagram, & Facebook @boobiespodcast and check out our blog, merch, and more on our brand new Boobies & Noobies website.

*Boobies & Noobies is part of the Frolic Podcast Network. You can find more outstanding podcasts to subscribe to at Frolic.media/podcasts*