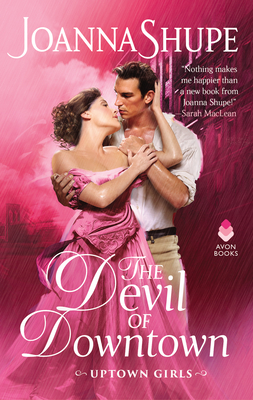 This episode is brought to you by Candlewick Press, publisher of The Mermaid, the Witch, and the Sea, the new YA fantasy novel by Maggie Takuda-Hall.
The Novel:
The Devil of Downtown
The Author: 
Joanna Shupe
The Noobie:
Ashby Vose, Ori Co-founder and Head of Brand (@ashbyvose)
Shop Ori online! 
The Synopsis:

Manhattan kingpin.
Brilliant mastermind.
Gentleman gangster.
He's built a wall around his heart...
Orphaned and abandoned on the Bowery's mean streets, Jack Mulligan survived on strength, cunning, and ambition. Now he rules his territory better than any politician or copper ever could. He didn't get here by being soft. But in uptown do-gooder Justine Greene―the very definition of an iron fist in a velvet glove―Jack may have met his match.
She wears hers on her sleeve...
Justine is devoted to tracking down deadbeat husbands and fighting for fair working conditions. When her mission brings her face-to-face with Jack, she's shocked to find the man behind the criminal empire is considerably more charming and honorable than many "gentlemen" she knows.
Forming an unlikely alliance, they discover an unexpected desire. And when Justine's past catches up with them, Jack may be her only hope of survival. Is she ready to make a deal with the devil...?
Show Notes: 
- Sponsored promo for The Mermaid, The Witch, and the Sea
- Introducing Ashby Vose & Ori
- Catch the replay of our discussion at Virtual PopCon!
- Join the Plus Size Group Chat on Facebook for a group of like-minded, body-positive women :)
- Check out our FREE Bonus Patreon chat about anxiety, finding connection during quarantine, and barista woes!
- Today's book: The Devil of Downtown (00:11:25)
- Acknowledging our misconceptions about romance 
- Defining "pleasure reading"...
- Revisiting my discussion about romance novel covers with Skye McDonald
- Synopsis for The Devil of Downtown (00:21:33)
- Getting to know our heroine through the rest of the characters
- The subtle (and not-so-subtle) mention of what's "good" and "bad" and how it relates to exploring privilege in the world today (00:34:35)
- Kelly's Advice: start reading cover-to-cover
- The historical research behind The Devil of Downtown (00:43:50)
- Channeling Hamilton while reading 
- A variety of progressive, modern relationships
- Sharing your space with a significant other?
- Not a lot of negatives, but... (01:04:10)
- The uniqueness of "sister stories"
- A newfound appreciation for where we are today
- A PLETHORA of saucy sexcerpts (01:11:58)
- The oral sex and dirty talk in this book puts every other book to shame
- Heart, Heat, & Humor Ratings (01:25:15)
- Bringing things full circle with some more "pleasure reading"
Follow Boobies & Noobies on Twitter, Instagram, & Facebook @boobiespodcast and check out our blog, merch, and more on our brand new Boobies & Noobies website.
*Boobies & Noobies is part of the Frolic Podcast Network. You can find more outstanding podcasts to subscribe to at Frolic.media/podcasts*