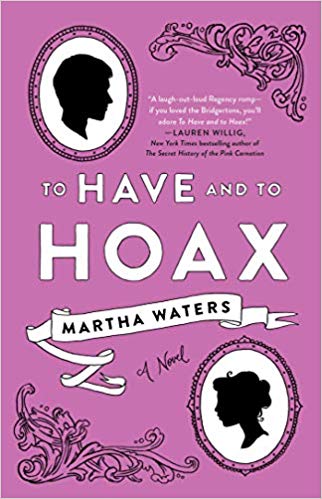 The Novel:
To Have and to Hoax
The Author: 
Martha Waters 
The Noobies: 
Sarah Wendell
The Synopsis:
In this fresh and hilarious historical rom-com, an estranged husband and wife in Regency England feign accidents and illness in an attempt to gain attention—and maybe just win each other back in the process.
Five years ago, Lady Violet Grey and Lord James Audley met, fell in love, and got married. Four years ago, they had a fight to end all fights, and have barely spoken since.
Their once-passionate love match has been reduced to one of cold, detached politeness. But when Violet receives a letter that James has been thrown from his horse and rendered unconscious at their country estate, she races to be by his side—only to discover him alive and well at a tavern, and completely unaware of her concern. She's outraged. He's confused. And the distance between them has never been more apparent.
Wanting to teach her estranged husband a lesson, Violet decides to feign an illness of her own. James quickly sees through it, but he decides to play along in an ever-escalating game of manipulation, featuring actors masquerading as doctors, threats of Swiss sanitariums, faux mistresses—and a lot of flirtation between a husband and wife who might not hate each other as much as they thought. Will the two be able to overcome four years of hurt or will they continue to deny the spark between them?
With charm, wit, and heart in spades, To Have and to Hoax is a fresh and eminently entertaining romantic comedy—perfect for fans of Jasmine Guillory and Julia Quinn.

Show Notes: 
- Introducing Sarah Wendell, writer, reader, & podcasting extraordinaire 
- 15+ amazing years of connecting romance readers from around the world on Smart Bitches, Trashy Books
- Sarah's favorite and least favorite tropes (no "danger boners" please)
- Pass on the "Best Friend's Brother" trope - for a less traditional take on that trope, check out our review of The Secret to Dating Your Best Friend's Sister by Meghan Quinn
- Quarantine does not mean stress-free reading...
- A quick guide to painting your non-dominant hand
- Introducing To Have and to Hoax by Martha Waters 
- Sarah's first foray into romance novels at the library 
- Kelly's introduction to romance novels with I'm in No Mood for Love by Rachel Gibson
- A brief synopsis for To Have and to Hoax 
- This is a romance novel written by someone who loves romance novels
- If you're looking for a contemporary romcom set during Regency Era...
- Things we love: female friendships, a perfect meet cute, and a commitment to consumption!
- The secret that just keeps on going... a difficult task to accomplish in a novel
- A little something extra for fans of Friends
- We're hooked on the female characters, but when it comes to the men... "Such dudes."
- How did we get to this point? What have you been doing for the last five years?
- More groveling, please! 
- This is a "cilantro" book - you will absolutely love it if you can get on board with the silliness 
- All the makings for a theatrical farce - Martha, we need the stage adaptation.
- Get ready for a SLOW burn...
- Beyond Heaving Bosoms: The Smart Bitches' Guide to Romance Novels and some wise words about writing sex scenes from Lisa Kleypas
- An ode to Lisa Kleypas' Wallflower series
- Kelly shares a sexcerpt (or more like a kisscerpt)
- Heart, Heat, & Humor Ratings  
- What's drawing people in right now? Cozy, low-angst reads that make you laugh 
- Some quick recs: Jennifer Crusie, Knit One, Girl Two by Shira Glassman
- It's easy to root for nice, good humans  
- Where and how to find Sarah - she's here to help you with recs!
What Sarah's reading: 
The Cadfael Series, Star of the Morning by Lynn Kurland, Witch Hat Atelier (Kindle Unlimited), Julia Quinn's Rokesby Series
What Kelly's reading: 
Carolina Reapers Series by Samantha Whiskey 
Shoutouts
Atria Books
Frolic Podcast Network 
Sonali Dev
Follow Boobies & Noobies on Twitter, Instagram, & Facebook @boobiespodcast
*Boobies & Noobies is part of the Frolic Podcast Network. You can find more outstanding podcasts to subscribe to at Frolic.media/podcasts*